Bentley Race says: Check out my new mate Flynn Evans. Flynn and I had been chatting online for some time before we actually got to hook up and shoot this scene. Flynn is an actor and travels the world for most of the year.
So I had to wait until he was back in Australia before we could meet up. Flynn is a handsome tall Aussie with a very large cock. He had showed me a picture of it before we met. But it turned out to be much larger in real life.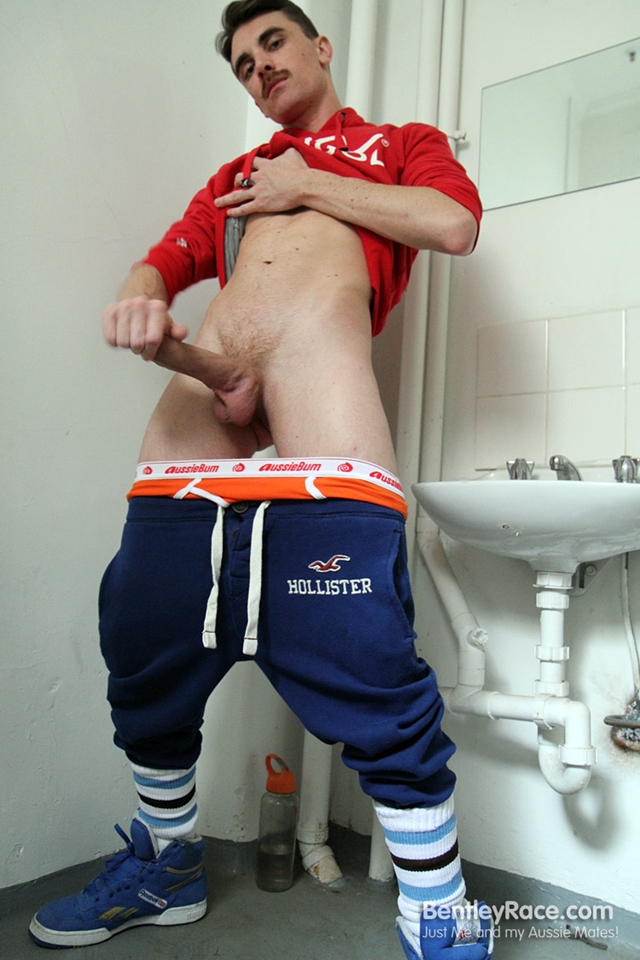 As soon as it sprung from his pants I knew that I wanted to be in his video. I started shooting the 29 year old in the public toilets behind my apartment building. Flynn was having a piss when I first saw his long cock.
And then he worked it stiff for me as I lay on the floor shooting him from below. Finally we headed back to my apartment to start his video. He had on a tight pair of briefs that I ripped open so I could tongue fuck his hole.
Flynn squirmed with pleasure as he rode my tongue, and his big cock started to gush pre-cum. My own cock was springing out as we helped each other to get off.
Flynn looks so dam hot as he's about to reach climax, letting out a big load of delicious cum! Flynn said he had lots of fun shooting his first porno and can't wait to get in to more action with my mates. Get Flynn Evans video at Bentley Race!