Colt Studios says: After a playful romp in the bedroom, always horny self sucker Zack Randall makes his way downstairs to the kitchen where he finds Tommy Deluca stroking a big bulge in his shorts.
Zack smiles and moves right in, hitting his knees and helping himself to Tommy's monster-big tool. Tommy gives plenty of verbal encouragement as Zack expertly handles his huge dick.
Taking turns, these guys go crazy for cock as they slurp, suck and deep-throat each other's BIG cocks. Bending over, Zack indulges in a little auto-fellatio, giving the head of his own uncut cock a hearty slurp as Tommy licks his balls.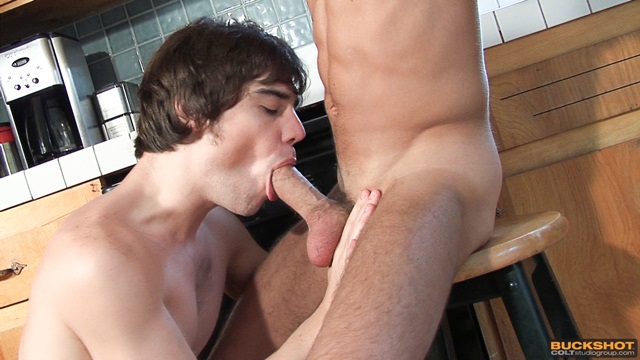 The cock-frenzy soon turns into an ass eating buffet as Zack spreads his cheeks wide, letting Tommy tongue-fucks his hot man hole. Then Tommy bends over and enjoys the same tongue-probing treatment.
Standing side by side they jack their meaty cocks in unison. Tommy cums first and unleashes a gusher, letting cum fly as he hammers out his load. Zack is right on his heels and adds his own white hot cum to the mix. Download self sucker Zack Randall & Tommy Deluca video now!