Dean Monroe and Landon Conrad have been getting really horny watching some of their hot friends video sexploits on screen. They decide that whatever they can do we can do BETTER!. So they set the camera up in the bedroom start it rolling and start to make their very own gay porn movie. The camera silently whirrs away and records all of their hot sex action. To be honest these boys don't know how to shoot a movie so they enter straight for the end game, Landon goes down on Dean with no messing about. His lips swallow Dean's rock hard cock and Dean presses it home, till it hits that sweet spot at the deepest part of Landon's throat. Deep throating him with every rhythmic pump of his muscled body Dean aims to go deeper and deeper. Landon is happy to ablige. After the warm up the boys move to the couch, make themselves comfortable as Landon pleasures Dean with a rampant session of hot wet ass eating, licking his ass and plunging his tongue deep into Dean's warm moist love hole.
Then Dean rolls over onto his back, throws his legs in the air and offers Landon a birdseye landing spot right between his ass cheeks. Landon obliges thrusting his cock with hard regular pumps so the shaft reams Dean's well lubed butt hole. Landon steadies himself by grabbing Dean's feet and ankles and rocks back and forth exercising his dick into Dean's now aching butt hole. Great shot of Landon pumping away for all his life, watching his lightly furry chest muscle flex as he rides gung ho into action with Dean. His cum gorged balls seem able to unload their creamy prize at any moment but he holds his fire xxx in the sensations pulsing throughout his massive muscle body.
Landon does not want to stop renjoying ever second. Dean breaths heavily and moans at Landon's relentless abusing of his sore ass. But does not try to intervene. Landon stops for a brief moment then pounds on some more. Great shot of Landon's ass cheeks parting with every deep thrust into Dean driving Dean's pleasure and his own to the stratosphere. As the sweat drips off Landon's face he holds tight to the sofa and fucks Dean from above, his dick sliding in and out of Dean's ass with hard rapid thrusts pressing all his weight down to drive his tool right where it is needed.
Then finally as the breathing becomes increasingly laboured Landon jerks himself out and blows a huge load of man cum all over the place. Dean immediately follows this with another huge cum blowout. And with this their sexual frustrations are sated and the camera clicks off to stop recording. A brilliant scene from Falcon Studios with Dean Monroe and Landon Conrad. What do you think? See more of Dean Monroe and Landon Conrad fucking at Falcon Studios.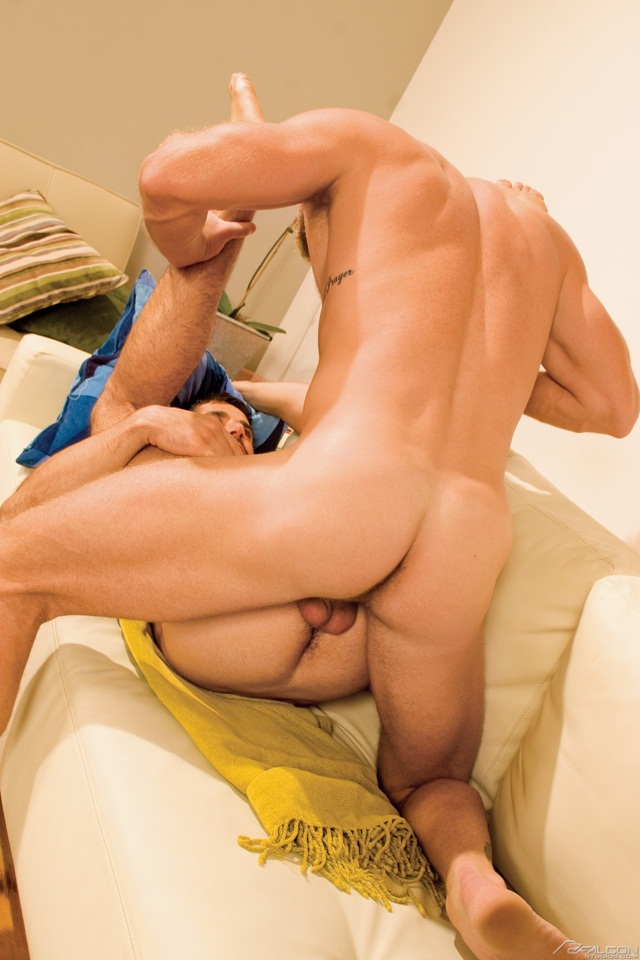 From the Falcon Studios DVD Point And Shoot
Starring: Alexander Garrett, Cameron Foster, Dean Monroe, Dylan Roberts, Jimmy Durano, Landon Conrad, Marc Dylan and Trevor Knight