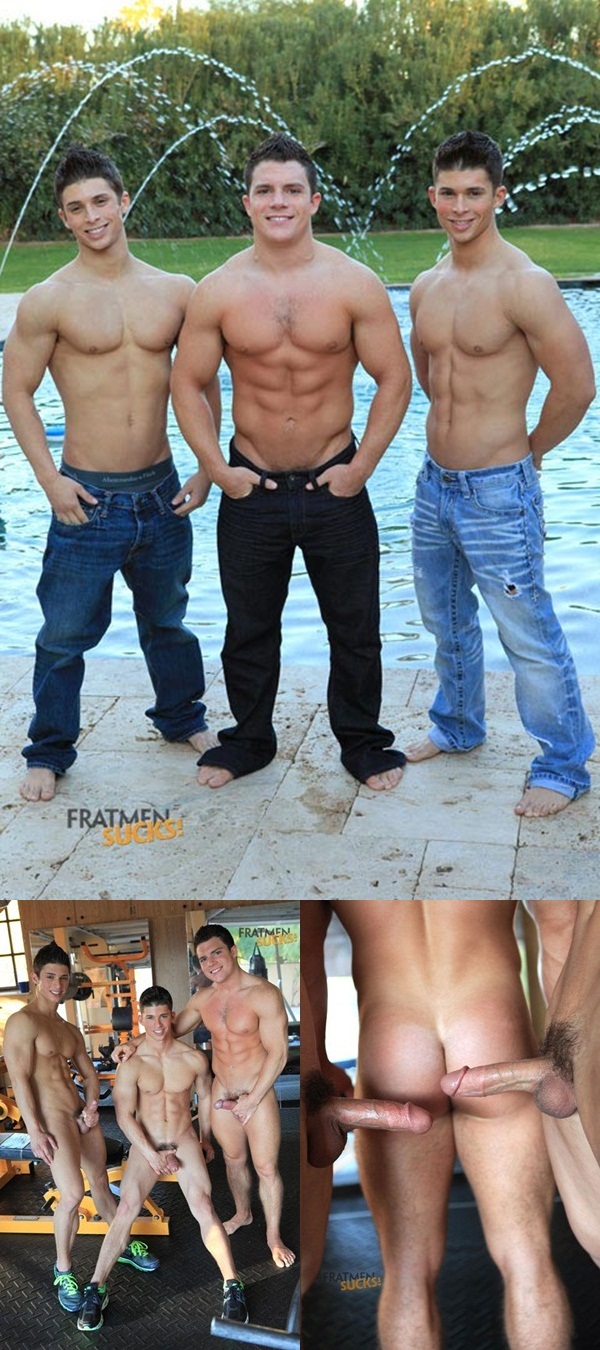 After Fratmen Ajay's twin brother Micky pays his bro a surprise visit, the boys head down to the gym for a mutual brotherly workout session. The boys always work out in the nude (as you do!) and are not shy of tha nakedness between them. They are lifting dumbells unaware Trent has arrived and he too strips his gym shorts to reveal a very pert set of ass cheeks. All three are gym regulars as attested by their tight ripped bodies and bulging arms and legs. Seeing Trent relaxing on the bench the boys pounce and start to give him a hard rub down being extra careful not to miss any spot on Trent's flawless bod. They take brotherly turns on Trent's fat cut cock first jerking him gently until he is hard and then blowing him first Micky and then Ajay. How those boys play so nice. Trent repays the favour with some long slow sucking of both boys cocks, deep throating to the base of their balls. Overcome by all the emotion the boys sit together on the bench and jerk off whilst watching each other slyly. The cum together with some amazing cum shots. If only all gyms were like this, we'd be more willing to get down their daily. See more of twins Ajay and Micky plus Trent at Fratmen Sucks.
Watch this movie in full at Fratmen Sucks.

See more of twins Ajay, Micky plus Trent at Fratmen Sucks.