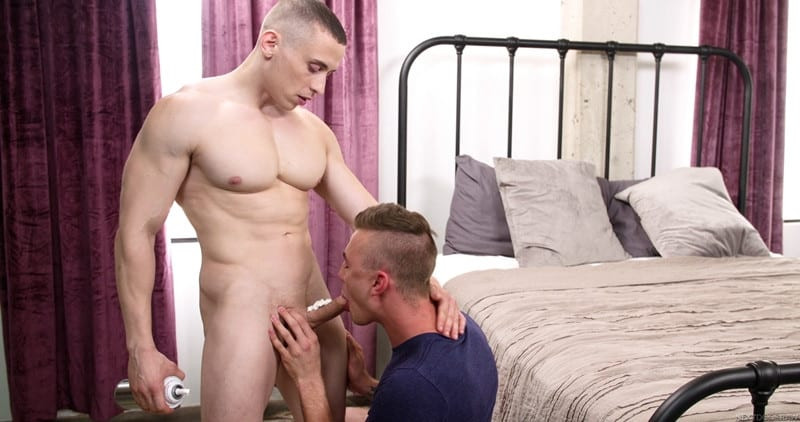 Next Door World says: Seeing his roomie Zander B down in the dumps, Dante Martin finds out it's Zander's birthday and none of his friends bothered to remember.
Zander is moping but Dante thinks he's got just the special surprise that can turn this party around, and he quickly returns with a can of whipped cream and nothing else, save for his hard dick staring straight up at Zander.
Zander tells him he's surprised as Dante tells him to come blow out his candle. Zander makes a wish and blows, taking Dante's cock deep down his throat as he takes off his clothes.
Dante returns the favor before asking Zander if he's ready for cake. Zander is confused until Dante lays him down and sits on his face, spraying the whipped cream all over his hole and telling Zander to dig in.
Zander can't wait, happily diving face first into Dante's crack, tongue fucking Dante's hole as Dante strokes him off. Dante quickly gets in the mood to fuck, and turns Zander around, perching his ass high in the air as Dante plunges his cock deep inside.
He gives Zander the birthday bang of his life, fucking him all over the bed before Zander finally spits his load. Dante pulls out and gives him one last gift- a giant jizz shower that leaves Zander satisfied and feeling much better about his special day.