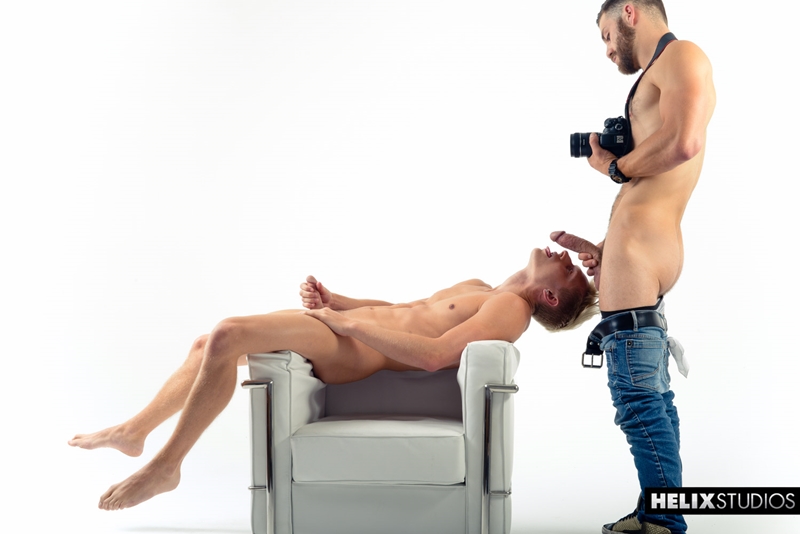 Helix says: Max Carter has long been a budding fashion model. It was during one particular fashion shoot that Max managed to turn heads. The head being turned in this case was the huge dick head of erstwhile fashion photographer to the gay porn stars, Tommy Defendi.
Blond young boy Max turns up in his best clothes and is overawed by the hairy muscular Tommy. As the shoot hots up, Max reaches down and unleashes Tommy's huge dick. Tommy being an ultimate professional continues to click away.
That is until Max takes his already hardening dick between his sweet smooth boy lips and plays around with his tongue on the sensitive mushroom cock head. Max has always had a way (and mostly had his way) with older men, and Tommy falls under his spell.
Max unbuckles Tommy's jeans and rips them to his ankles, he sucks in his fully erect cock deep down his young throat. It's amazing how much cock this eminent cocksucker can put away. Tommy overcome with horny passion then fucks Max's tight boy hole hard and deep.
Showing him no mercy in a ass fucking session Max hasn't had in ages. It seems that both boy and man satisfy their carnal desires as they both get close to orgasm and one after the other blow their huge loads.
Tommy pumps out a huge cumshot of muscle cum as Max unloads a splurge of hot boy jizz.