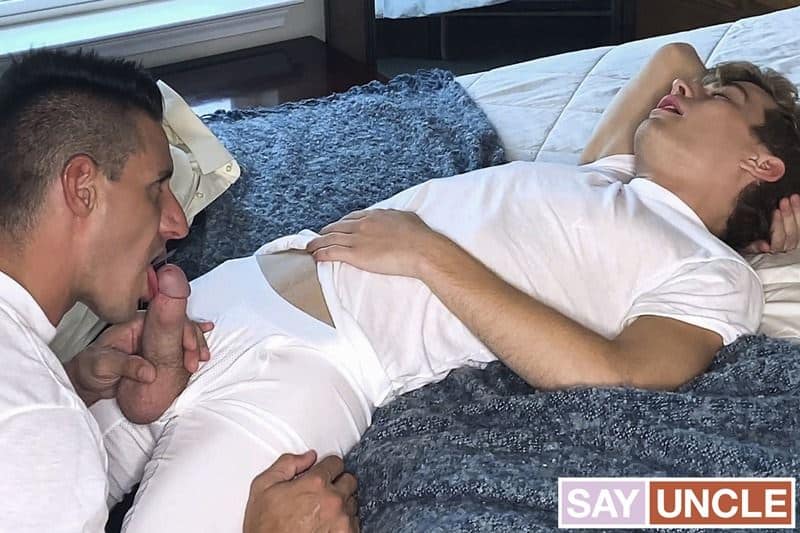 Missionary Boys says: Fit young dude Jesse Bolton is relaxing at home when he hears someone at the door ringing the bell.
He opens the door to find Father Jax Thirio asking if he can come in.
Jesse invites Father Jax in and when they are seated on the sofa Jesse mentions that he has decided to go on a mission.
Jesse says he will miss Father Jax and he hopes for his blessing.
Father Jax opens his pants and his big thick soft dick flops out.
Immediately Jesse falls to his knees and sucks his cock into the back of his throat.
Father Jax's dick becomes rock hard as Jesse sucks it down.
They retire to the bedroom where Jesse lays down in missionary position with his ass up in the air.
Father Jax feeds his solid dick between Jesse's smooth ass cheeks getting his dick balls deep into his hot boy hole.
He slaps Jesse's ass cheeks as he bareback fucks him in slow rhythmic flows.
Jesse gets on top, guiding Father Jax's hard cock into his ass hole, reverse cowboy style.
With Jesse firmly in control, he grinds his young asshole down further onto Father Jax's erect dick. Feeling evey inch of the horny priest's fuck tool.
The hardcore raw ass fucking continues this time with Jesse on his back with his legs in the air.
Father Jax pumps his erect cock deeper in Jesse's young bubble butt hole till he can take it no more and he sprays cum all over his stomach and chest in explosive jizz shots.
Satisfied that Young Jesse horny feelings have been sated Father Jax pulls out and blows a huge jizz load all over the young missionary boy.