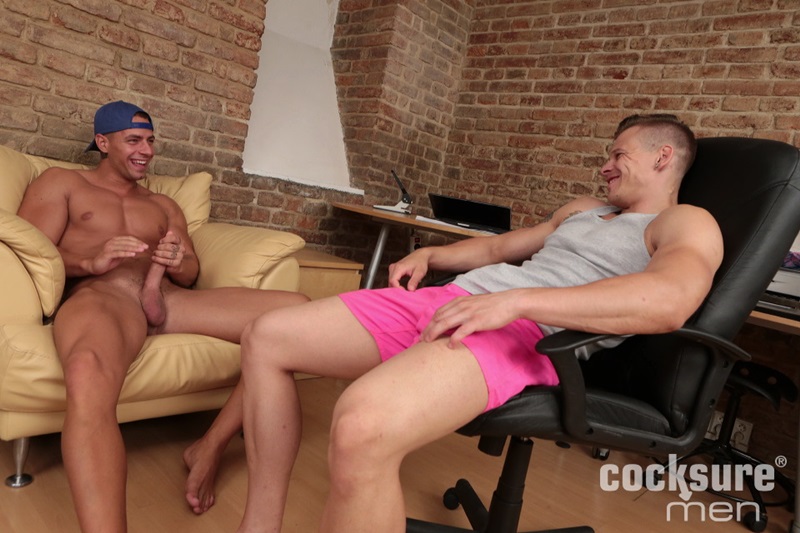 Cocksure Men says: Nico Lacosty watches stud Patrick Tyson jerk his meat. Patrick begins to play with Nico's nipples. With his mouth Patrick feels Nico's cock through his shorts.
They begin to make out. Nico takes his shorts off revealing his cock. They both jerk each other's cocks and kiss passionately. Patrick stands over him while Nico wraps his mouth around his thick, uncut cock. Patrick returns the favor making his way down to Nico's uncut prick.
He sucks just the head then goes over and massages his balls with his mouth. Patrick eats Nico's ass while Nico jerks his pole. Nico grabs the baby oil, squirting it on his muscular body then on to Patrick's chiseled bod. They rub it all over each other.
Patrick gets a dildo from the floor and rubs it on their oily bodies to lube it up. Nico grabs the dildo and pokes himself, while Patrick jerks Nico's prick. Patrick asks to be fucked. They lay next to each other and Nico drives his raw cock deep inside Patrick, bareback.
Nico towers over Patrick and shoves his meat stick in and out bareback, fucking him doggy-style. Nico lays on his back and Patrick takes a raw ride. Nico pumps his cock bareback deep inside Patrick's hole from the bottom, while Patrick bounces on top.
Nico Lacosty pulls out and shoots his wad onto Patrick's cock, then seeds his raw ass bareback. Patrick Tyson strokes and creams all over his abs. They end with a passionate kiss.