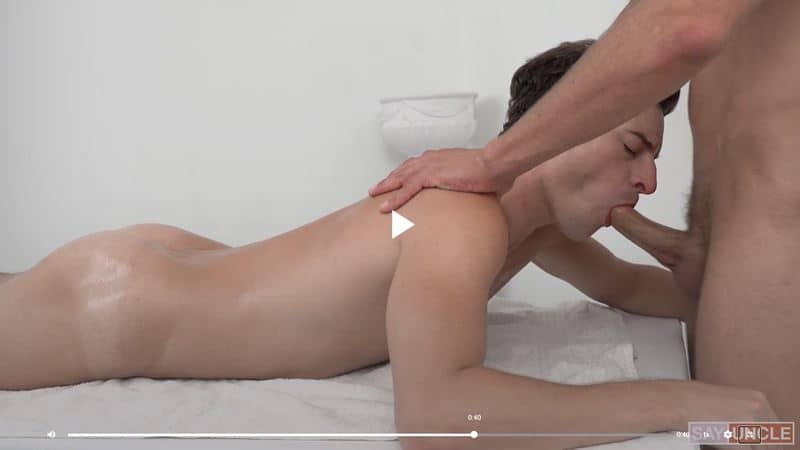 Missionary Boys says: Young Elder Taylor Reign visits older Bishop Trent Summers for a purification ceremony
Bishop Summers undresses Elder Reign removing his shirt and pants getting him to lie totally naked on the altar.
Elder Reign's thick soft cock quickly becomes fully erect as Bishop Summers drips the holy oil onto his body and rubs it into his skin in long slow strokes.
When Bishop Summers manhandles Elder Reign's hard cock he jerks it slowly and rubbing his cum filled balls.
With Elder Reign now lying face down, Bishop Summers first massages his asshole and probes his hot hole with his fingers before pushing his own super erect dick into Elder Reign's young mouth.
ELder Reign seems to enjoy blowing the Bishop and chokes back his full length right to the back of his throat.
Bishop Summers then parts his ass cheeks and plunges his thick erect cock deep into Elder Reign's tight boy hole.
They switch positions a number of times with each new one, getting deeper and harder into the young priest's asshole.
Elder Reign is soon moaning loudly and cannot take much more of the raw ass pummeling before he is to blow his load.
But first just before orgasm Bishop Summers pulls out his huge bare dick and shoves it into young Elder Reign's mouth just as he cums.
His hot cum sprays into Elder Reign's mouth with jizz dripping from his tongue before Elder Reign jerks his own cock firing off a huge volley of jizz across them both. The Bishop is happy his young priestly charge is newly purified and chaste.